El Diversity Visas Program o Programa Visas de Diversidad, también conocido como lotería de visas, es una iniciativa del Departamento de Estado de Estados Unidos (DOS) que otorga oportunidades a ciudadanos de países con bajas tasas de inmigración a Estados Unidos para obtener una visa de diversidad, también conocida como Visa DV. Esta les permite migrar legalmente a Estados Unidos e incluso acceder a la Residencia Permanente y posteriormente a la ciudadanía estadounidense por naturalización.
Este programa funciona a través de un proceso de selección aleatoria o sorteo. Cada Año Fiscal, el DOS acepta solicitudes durante un período específico, generalmente de un mes, entre octubre y noviembre, y luego selecciona al azar a un número predeterminado de solicitantes de cada país elegible.
Cabe mencionar que, para aplicar este sorteo de visas, es necesario ser ciudadano de un país elegible. Esto incluye ciudadanos que nacieron en estos países o que adquirieron la nacionalidad por cónyuge; de igual forma son elegibles personas que nacieron en un país no elegible, pero sus padres nacieron en uno que sí es elegible para el programa.
The visas are distributed in six geographic regions and citizens of countries that have sent more than 50,000 immigrants to the United States in the last five years are excluded from the program. Thus, countries that are not eligible must reduce migration rates considerably in order to be considered.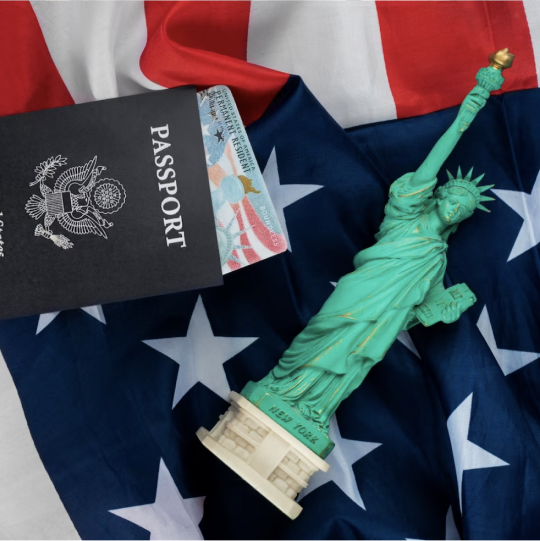 Por ejemplo, México es uno de los países cuyos ciudadanos que no pueden participar en la lotería de visas, ya que cuenta con altos flujos de migración a Estados Unidos.  Otros países no elegibles dentro de Latinoamérica son Brasil, Colombia, República Dominicana, El Salvador, Honduras y Venezuela, ya que también cuentan con altas tasas de migración. Sin embargo, cada año la lista puede excluir o incluir nuevos países.
Asimismo, el programa DV toma en cuenta requisitos de educación o experiencia laboral. Por lo general, deben tener al menos un diploma de preparatoria/high school o su equivalente, o bien, una cantidad mínima de experiencia laboral en una ocupación específica.
Para aplicar a la lotería de visas, los solicitantes deben completar un formulario en línea durante el período de inscripción designado. Cabe resaltar que solo se permite una solicitud por persona y no se requiere realizar ningún tipo de pago para participar en el programa.
También es importante saber que cada año, se asigna un número limitado de visas bajo este programa. Los ganadores del sorteo son notificados y pueden solicitar una Visa DV para sí mismos y sus familias (cónyuge e hijos solteros menores de 21 años).
Asimismo, una vez que se otorga una Visa DV, los ganadores deben seguir un proceso para obtener su visa y, eventualmente, obtener la residencia permanente en Estados Unidos. Esto implica someterse a exámenes médicos, verificaciones de antecedentes y entrevistas consulares.
También es importante tener en cuenta que obtener una Visa DV no garantiza la obtención de una visa o la residencia permanente en Estados Unidos. Los solicitantes ganadores del sorteo deben cumplir con todos los requisitos y superar los controles de seguridad y médicos antes de ser elegibles para ingresar a Estados Unidos como residentes permanentes.