New York City Mayor-elect Eric Adams has appointed Manuel Castro as the Commissioner of the Mayor's Office of Immigrant Affairs (MOIA).
Manuel "Manny" Castro will become the new commissioner of MOIA, and the first dreamer and Mexican-American to hold said position. Castro emigrated with his mother to New York City when he was five years old and lived a large part of his life in the United States as an undocumented immigrant, so from a young age he was interested in improving the situation of immigrants in the city.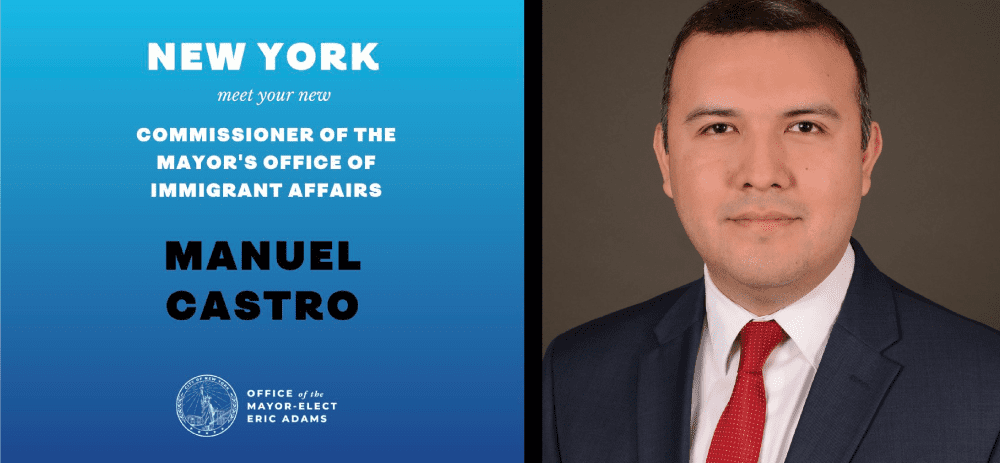 Currently, Castro is director of New Immigrant Community Empowerment (NICE), an organization dedicated to improving the living conditions of immigrant workers in New York, which also has more than 15,000 members.
In the academic field, Castro studied urban anthropology with a focus on immigrant workers at Hampshire College, later obtaining a postgraduate degree in Public Administration at the City University of New York.
Castro, who has been involved in the fight for immigrant rights for 15 years, was also involved in state and federal campaigns for the New York Immigration Coalition (NYIC). There he coordinated campaigns such as the NYS DREAM Act, the driver's license campaign and the immigration reform campaign.
He was also recognized by Murad Awawdeh, Executive Director of the NYIC, upon his appointment: "Manny has always intimately understood the experiences of immigrant New Yorkers and has advocated to improve their circumstances and meet their needs throughout his career."
Separately, Guillermo Chacón, Chairman of the NYIC Board of Directors, had this to say: "Thank you, Mayor-elect Eric Adams, for your historic appointment of Manuel Castro to lead MOIA. Manuel Castro is a respected immigrant rights leader who has been on the front lines from day one in providing critical services to those most impacted during the COVID-19 crisis," he explained.