Nataly Morales, a dreamer originally from El Mezquital, Durango, obtained her master's degree in education from Harvard in mid-June of this year.
Nataly Morales is a first generation immigrant student who managed to graduate from Harvard Graduate School Of Education a few weeks ago. In 2001, when Nataly was 5 years old, her mother, Verónica Morales, immigrated to the United States illegally in search of new life opportunities. And after a few months Nataly joined her mother in North Carolina and later they moved to Georgia.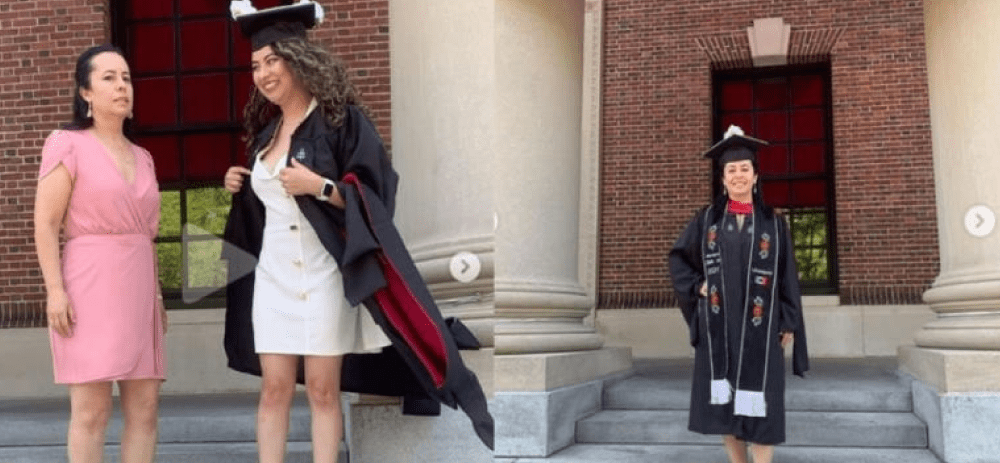 However, from the age of 11, Nataly stopped being an undocumented immigrant and became a legal permanent resident after obtaining her Green Card. And finally, ten years later, in 2017, she became a US citizen. On the other hand, her mother has legal permanent residence.
Verónica Morales managed to support her daughter by working at a poultry plant in Gainesville, Georgia. "Thanks to all her sacrifices and because she raised me alone, I got to Harvard," explains Nataly.
"For the woman who risked her life crossing the border between the United States and Mexico, to offer me a better future. Thank you for giving me the opportunity to get college education. Thank you for allowing me to become a strong and independent woman. I am the product of your sacrifices and hard work, "wrote Nataly on social networks in the form of thanks to her mother.
Nataly graduated from Chestatee High School and earned a bachelor's degree in political science from the University of North Georgia (UNG). It was during her undergraduate years at UNG that she was part of the McNair Schilars program, which provides federal funds to prepare undergraduates to enter postgraduate academic research studies.
In this way he began taking his online courses at the Harvard Graduate School of Education. to obtain the master's degree that she recently completed, the master's degree in education with a focus on educational policies.
At the beginning of the master's degree, Villa explained that during his time at the UNG and high school he never had a teacher or counselor of Hispanic origin. The lack of representation, he mentioned, was one of his motivations to continue studying and become a role model for the next generation of Latino students. 
He currently works as an interpreter and research assistant at the Harvard Graduate School of Education.